SUPER HYDROPHILIC
A hydrophilic means to get wet easily on surface condition. Such as made waterdrop on something surface after rain that water shedding condition. The hydrophilic property is spread water and looks like water film on the surface.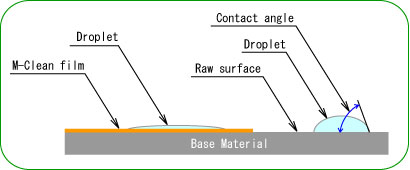 The droplet is spread on photocatalyst coating surface why angle of contact of water is nearly 0 when activate TiO2 to illuminate the light. Various material surface conditions can be changed to hydrophily to use this phenomenon.
Some blot put on the M-Clean coated surface that is able to flush away together with water (such as rain) on super hydrophilic surface how is get into the blot and strike up it.
This effect is used flush away on a surface of building external wall, cool down building wall to wrap little water at summer season, etc.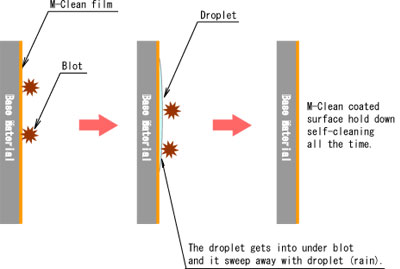 By using the hydrophilic effect of photocatalyst, it is found to be useful for curtailment of maintenance expense, improvement of electricity expense, landscape management, environmental protection, etc.