Photocatalysis Self cleaning effect is needed two properties that decomposed effect and hydrophilic effect.
Photocatalyst Self cleaning effect is mixed decomposed effect and hydrophilic properties. Some mold and moss, bacterial, etc are cleared away by decomposed effect. However put on some blot, air pollutant-formation or bird dropping are keep down to adhesion condition by decomposed, then hydrophilic property is cleared way with rain water.
Photocatalyst M-Clean fluid works well even on walls on the north side, which are not exposed to direct sunlight.
Only either property is not able to do self cleaning effect.
Photocatalysis self-cleaning effect is the only ticket.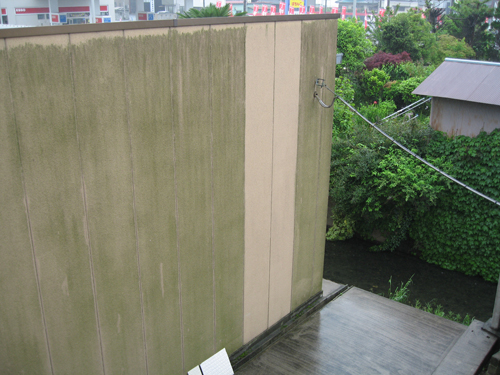 Self-cleaning condition since 2004
(Exterior wall on the north side, specification: concavo-convex shape paint on a ALC)
Antifouling field test
In January 2004, photocatalyst M-Clean M-5 type was installed on a part of the north side of the outer wall of the factory. It has been confirmed that it prevents the growth of moss and mold that tend to grow on the north side and maintains the initial state for a long time.
It is used in places where you do not want to spend running costs (no maintenance), buildings where design is important, places where you care about appearance, corporate image, etc.
State after 6 years and 4 months (no maintenance)
Shooting date: May 2010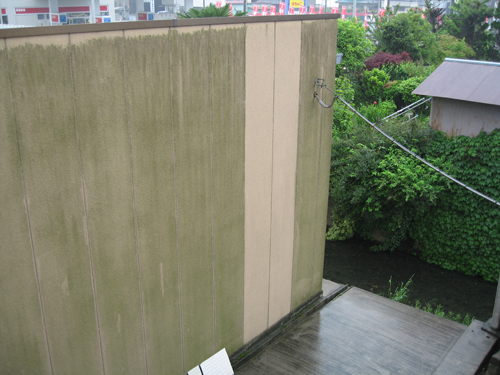 State after 4 years and 6 months (no maintenance)
Shooting date: August 2008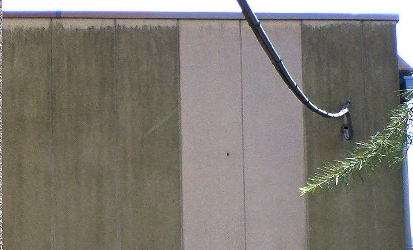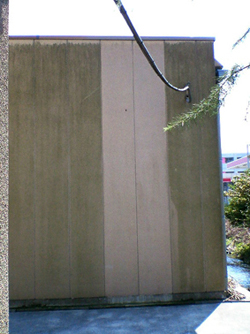 State after 3 years and 1 months (no maintenance)
Shooting date: Feb 2007